Which Cruise Line is the Best Cruise Line?
Frustratingly, like most articles with a title like this, I can't give you a straight answer on what is the Best Cruise Line. Articles like this always reel you in with the promise of a definite, final answer and never give you the jackpot after you take the bait. For that I apologize, but hear me out! What you might consider "the best" cruise line, depends dramatically on what you consider the best elements of a vacation at sea. Every cruise line specializes in a drastically different cross section of amenities, catering to an equally drastically different demographic. We've traveled on many of these cruises and here is what we know from experience.
Here's my take on the best cruise lines for you:
These are just the major cruise lines with a focus on those American passengers would sail on. There are many other cruise lines to choose from, and we'll cover that in a separate blog post.
Carnival Cruises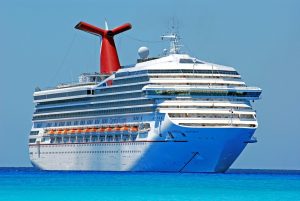 Almost anyone who has even thought about taking a cruise knows about Carnival Cruise Lines. They are the largest cruise company in the world, operating the most vessels. Known for their trademark red "Whale Tail" smoke stacks, Carnival cruises generally target a more mainstream demographic of young adults and younger families but you can find a large cross section of people on board. Carnival is the best choice for those who prefer informal, casual and party-style fun. Their dress codes are relaxed compared to other cruise lines. They specialize in family-oriented activities and their party atmosphere is rarely seen on any other cruise line. It is not uncommon to see a disco-style dance party, disco lights and all, happening on the pool deck with revelers in tropical-print shirts dancing the night away. Carnival prides itself on focusing on "fun", and  you can tell. Their ships are more likely to sail to warm tropical locales, and include amenities like water slides, kids venues, sports and more. Carnival tends to skew with the younger crowds and families, focusing on cheaper fares, and less "stuffy" aesthetics. While they certainly offer their share of elegance when required, their staterooms, common areas and restaurants tend to be much more casual than other cruise lines. Staterooms are usually comfortable if a little dated, resembling a mid-range hotel rather than a 5 star hotel.
On our cruises with Carnival, we have always had a blast. Their focus on Fun is a great asset, and their staff are friendly and energetic. The food quality can vary from ship to ship, but is always sufficient. We've experienced both mind-blowing cuisine on the Carnival Glory and more run-of-the-mill food on the Glory's sister ship Carnival Conquest. Entertainment is always top notch with family friendly shows that rival those on Broadway or Las Vegas.
Carnival Cruises also owns several other well-known brands of cruise lines, including Princess Cruises, Costa Cruises, AIDA, Cunard Line, Fathom, Holland America Line, P&O Cruises and others.
Royal Caribbean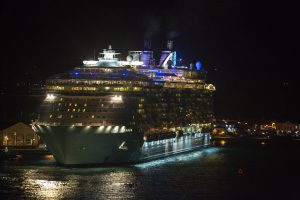 The next largest cruise operator in the business, with just one less ship than Carnival. (At the time of this writing.) Despite having the world "Caribbean" in their name, Royal Caribbean sails their vessels all over the world, but do have a tendency to frequent warm tropical waters in the southern regions of North America. Their ships tend fall into the "huge and grand" category, heavy with spectacle, and even record breaking in size. Currently Royal Caribbean has maintained the "largest vessel in the world" record for several years and they like to focus on building bigger and bigger ships. Elements of their vessels include cavernous atriums, ice skating rinks, enormous theatres, and an incredible array of dining options.
RC cruises attracts all kinds of travelers of all ages and is good for lots of family fun. While their cruises tend to be more expensive than Carnival, Royal Caribbean almost always offers a much wider array of activities, something for everyone. Like Carnival, they also have ships with waterslides and thrill rides, but also go right over-board (hah! Get it?) with theatre, dancing, food and beverage events, and more. There will be something for the whole family on board a Royal Caribbean vessel.
Royal Caribbean also owns two private resorts on private islands in the Caribbean where their boats sail. Their resorts feature waterparks, cabanas, beaches and kids areas.
Princess Cruises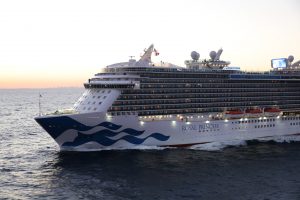 As the name suggests, Princess Cruises is considered to be one of the more elegant and formal cruise lines, especially when compared to their mother-ship company Carnival Cruise Lines. Perhaps most famous for providing the backdrop for the old 80's TV sitcom "The Love Boat", Princess Cruises is owned and operated by Carnival, but the cruise experience couldn't be more different. If you're in the mood for luxury and fine living, Princess is a great choice for you. They still offer all of the staples, swimming pools and hot tubs, theatres and discos, but they do it in a much higher class style. Elegance is their signature. Princess Cruises tend to travel all over the world, including the tropics, Asia, South America, Australia & New Zealand, Europe and more. Princess may not have the largest ships in the industry but that doesn't mean they aren't grand. Often, you can find architectural features on their ships that are unique, like observation decks that dare to hang off the aft or sides of the ship so far you might feel vertigo. One of the more formal cruise lines, you'll want to be sure you pack a suit or gown or three.
Celebrity Cruises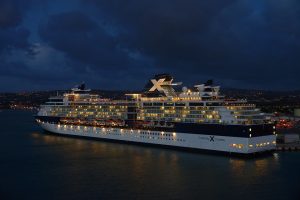 Celebrity Cruises known for it's big white X on it's ship's stacks is sort of the jack of all trades. This cruise line is part elegant luxury, part millennial fun style. Often considered the most sleek and stylish lines in the industry, each ship is glamorous and comfortable, with a large collection of art on board. They attract a mix of younger and older crowd, but have far less families and children. These ships don't have as many children's programs as other cruise lines, and cater more to the adult couples, usually aged 35 and up who are looking for an elegant getaway. They amp up the cruise experience with refinement and class. Their Solstice-class ships are by far the most elegant megaships on the seas. Have I said they specialize in elegant class yet?  Celebrity sails to Alaska, Caribbean, The Bahamas, Bermuda, Canada/New England, the Pacific Northwest, Panama Canal (plus Europe, South America, Galapagos, transatlantic).
Holland America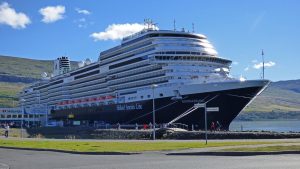 One of the oldest and most historic shipping lines, Holland America is definitely an underestimated player in the cruise world. On a Holland America ship, you'll find lots of class with old-world classic elegance. Some of the best beds in the industry can be found on these ships. Holland America line caters mostly to older folks and offers a more relaxed and stately cruise experience, and can be a very good value for the money. Previously focusing on midsized smaller ships, their fleet is growing fast, and becoming competitive with the megaship trend. On board, the passengers like to enjoy classic atmosphere and tend to be dressier and more formal than the other major lines. You'll notice that Holland America is much less intense of a vacation experience, with less rushing and go-ing, and perfect for those customers who want to lay around and relax. You'll definitely feel as if you've stepped back in time on a Holland America cruise, where you meet other cruisers at dinner and even some cruises offer gentleman hosts for single women to dance and dine with. Holland America sails almost everywhere in the world, but especially focuses on Alaska, and they operate one of the most extensive land-tour experiences there. If you're looking for an old-time classic but luxurious experience, this cruise line is for you.
Disney Cruise Line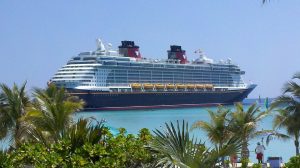 Everyone knows about Disney Cruise Lines these days, especially if you have children! Mickey and friends greet and welcome you aboard some of the most magical ships sailing on the sea today. Magic is not cheap though, and you will pay a hefty price for the magical experience, but time and time again they are voted the best in the industry when it comes to service, cabins, entertainment and food. Obviously catering to younger families, you'll find lots of children and children programs on board. The smallest fleet of the mainstream cruise lines, their ships tend to be both classic and ultramodern, reminiscent of the classic transatlantic cruise liners (like the Titanic, Queen Mary, etc.) while offering the largest cabins of any cruise ship for families. Just because they focus on the kids, doesn't mean the adults are forgotten. All of their ships offer separate adult pools and lounges. If you're a fan of Disney parks, you'll be delighted to find that many of the features found in the parks can also be found on their ships, through international staff, pin-trading, character meet-and-greets, and more. You can even combine vacation packages to their parks with cruises to create a truly spectacular vacation. Destinations include Caribbean, The Bahamas, Mexican Riviera, Alaska and Europe.
Norwegian Cruise Lines

Norwegian is a big player in cruise line industry, offering destinations that rival the biggest lines. Offering some of the most modern and exciting ships, Norwegian's fleet spans the gamut from gargantuan to modest, and the most colorful fun paint jobs of any cruise ship on the sea. You'll find something for everyone on a Norwegian ship, and they pride themselves on attracting everyone from young millennial to to families to older generations. They sail almost everywhere and offer some really unique amenities like bowling alleys, go-cart tracks on top of their ships and their famous "The Waterfront" experience, which offers specialty dining restaurants setup to feel like you're dining on an oceanside boardwalk! Norwegian likes to keep their ships refurbished and current and really makes an effort to offer the most exciting of any ship on the water. Norwegian's biggest ship, launching in May 2018 is the Norwegian Bliss, which is incredibly impressive.
Norwegian also boasts some of the most impressive and spectacular on-board entertainment offerings, such as actual Broadway musicals and high-end shows. If you're looking for a more active vacation, NCL has you covered with the most excursions and activities available at sea, and casual anytime dining.
If you're looking to cruise Hawaii, Norwegian is the best choice to hop between islands.  Despite their name, Norwegian tends to focus on American tourism staples like the Caribbean, The Bahamas, Panama Canal, Alaska, Mexican Riviera, Bermuda, Hawaii, the Pacific Coast and some destinations in Europe.
Cunard Cruises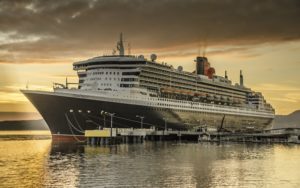 If you're looking for the most classic, elegant and venerated cruise in the world, Cunard is your line. Owned by Carnival and operated along side Princess Cruise Lines and Holland America, The Cunard Line provides a glimpse of the Golden Age of luxury cruise lines, even more so than Holland America does. Starting out, historically as a freight line, Sir Samuel Cunard provided the first steamship service between Europe and North America in 1840. Cunard's fleet is the smallest of the major cruise lines, with only three ships sailing. The Queen Mary 2 – which replaced The Queen Elizabeth 2, one of the most classic ships of a bygone era. The Queen Mary 2 previously held the record for the biggest ship at sea, but now has been surpassed by Royal Caribbean. Cunard prides themselves so much on old-world "charm" that you'll even experience a left-over touch of blatant class structure: Some restaurants and decks are for "First-Class" passengers only.
Cunard cruises attracts mostly well-traveled passengers in their 50s or older. You'll find activities on board cater more to 4-o'clock tea rather than those who enjoy hot tubs and fruity drinks. Cunard still specializes in cross-Atlantic journeys when they aren't cruising and you can often find really long trips on their ships. You'll even find the most impressive libraries at sea on their ship, with actual librarians!
Entertainment tends to be a bit subdued. Classic plays and classical and jazz music throughout the vessels, to further enhance the old-time feel of your holiday.
Cunard sails to the Caribbean, New England/Canada, transatlantic (plus Europe, Africa, Asia, South America, world cruise).
As you can see there's a lot to consider when asking "What's the best cruise line for me?" It all depends on your tastes and expectations. If you've still got questions or can't decide. Why not contact us to help you? We can set you on a trip to sea of your dreams.